I have just upgraded from v3.14.1 to v4.0.3 over Matomo's web interface (after being notified by email).
After automatically downloading and installing the new version Matomo reported a few "unrecognized files" and prompted me to delete them on the target system: (indentation mine)
rm -Rf \
   ~/www/analytics/home/libs/bower_components \
   ~/www/analytics/home/vendor/container-interop \
   ~/www/analytics/home/vendor/piwik \
   ~/www/analytics/home/vendor/twig/twig/ext
rm ~/www/analytics/home/misc/others/ExamplePiwikTracker.php
The subsequent update of the database schema (I assume) took a little bit longer than in all the upgrades before (I started with < v2.4.9 in 2014).
Broken dashboard widgets
Afterwards I could log in just as normal, but I notice a red warning banner for a fraction of a second after the login, and now some widgets are broken: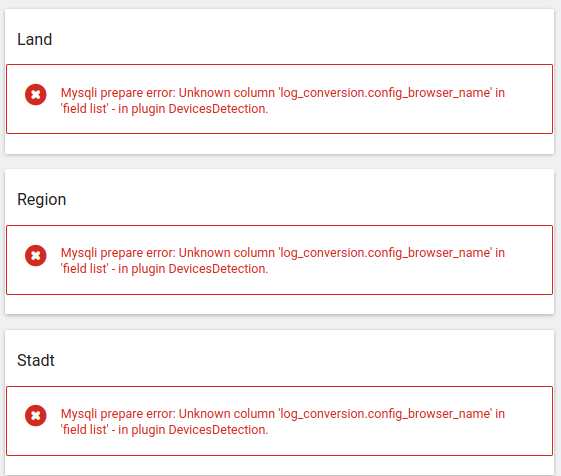 Incompatible ExampleXxx plugins
The System Check complains about a "ExampleLogTables" plugin that could not be loaded due to incompatibility:
Das Plugin ExampleLogTables konnte nicht geladen werden, da folgende Abhängigkeiten fehlen: ExampleLogTables benötigt Piwik <4.0.0-b1 Bitte kontaktieren Sie Ihren Matomo Administrator.
Note that I have 3 websites that I track with one Matomo instance. Interestingly, the widgets of the first website are not affected, but the other two are. And the dashboard for "All websites" reports serious problems:
Uninstall links missing
Can I uninstall all the old "ExampleXxx" plugins and install compatible ones to fix this? The Adminstration ➜ System ➜ Plugins page doesn't show an "Uninstall" link for most of them. :worried: